Warsaw Tour (English guide)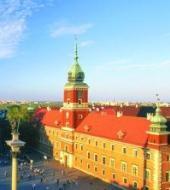 Take a comfortable full day tour to Warsaw from Krakow and join our Warsaw city tour and see all major touristic attractions in the capital of Poland.
We will take you to Old Town area to show you Royal Castle, Old Market Square and Barbican. Following Royal Route you will see Presidential Palace, University of Warsaw, Holy Cross Church with Chopin's heart, Copernicus Statue.
More highlights of Warsaw sightseeing include: New Town with Monument of Warsaw Uprising, Jewish Ghetto, Tomb of Unknown Soldier, Palace of Culture and Science, Łazienki Royal Park with Palace on the Water and Chopin Monument, Praga District and more.
Departure time:
Daily by early train (around 7:00 a.m.) from the main train station in Krakow.

Departure place:
Hotel pick up
Duration:
12 hours
Price includes:
Express/IC train transportation
Guided Warsaw City Tour
Hotel pick up and drop off
All transfers in Warsaw
Minimum 2 people

Tickets sent by email!
Powered by Ticketbar