Krakow Heritage tour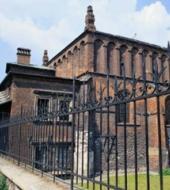 THE TOUR IS CLOSED FOR NOW


Why there are so many churches in Krakow? How many times Krakow's students were stealing cannon from the city arsenal? What was it like to be a king in Krakow?
If you want to know the answers for these questions you have to join the Krakow Heritage tour.
On this tour you will see:
Saint Mary's church from inside
The Town hall tower (inside)
The oldest university building - Collegium Maius
Franciscan church (inside)
Saint Paul and Peter church (inside)
Wawel cathedral from inside
Dragon's den from inside
Included in the ticket: entrance fees to museum, dragon's den and churches
Departure place:
CCT office on Matejko Sq. 2
Duration
4,5 hours.
Available only as a private tour.

Tickets sent by email!
Powered by Ticketbar