Krakow Bike Tour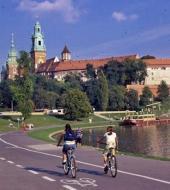 Discover Krakow's most popular places on bike with the best English speaking guides!
Join us for a trip that will take you to Krakow's must see sights and to the places where most tourists just read about:


Krakow's beautiful Old Town and the Main Market Square
The Dragon of Wawel Castle
The Old City walls & Krakow's main gate
The Jewish cemetery - Kazimierz, the old Jewish Quarter of Krakow
A ride along the Vistula river
The Jewish ghetto from World War II and the ghetto wall
Oscar Schindler's factory and locations from Schindler's List
A fantastic panoramic view of the city from a hill fortress
Put your guidebook down & let us share the history, legends and stories that make Krakow Poland's most beautiful and historic city.
Departure times:
Low season (March 15th - Apr 30th and Oct 1st - Nov 15th)
English Tour available daily at 12:00
High season (May 1st - Sept 30th)
English Tour available daily at 10:00 and 15:00
Departure place:
Grodzka Street 2
Duration: 4 hours

Tickets sent by email!
Powered by Ticketbar