Investigating Mysterious Krakow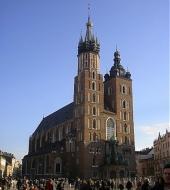 Bored with ordinary sightseeing?
Join us and look for traces of extraordinary people and events here in Krakow! Your level of adrenaline will surely raise, when you visit places where adrenalin was discovered! With us, you visit places related to famous people, such as J. W. Goethe, J. Conrad, H. Rubinstein, F. Liszt, Lenin, S. Spielberg and John Paul II. What's more, you go to the Collegium Maius Museum in search of Copernicus' instruments.

Departure time: English tour available every day at 10.30 a.m.

Departure place: in front of City Tours' office on 44 Floriańska St.

Duration: approx. 3,5 hours

Minimum number of participants: 2




Tickets sent by email!
Powered by Ticketbar