Taste of Dublin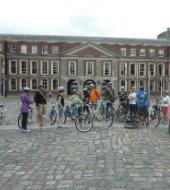 The Taste of Dublin tour starts outside Cafe Rothar on Fade Street and takes in College Green, Dublin Castle, the Guinness brewery, St Patrick's Cathedral, Temple Bar, the 'Italian Quarter', the fashionable southside, Parnell Square and the Georgian northside, Merrion Square and the Oscar Wilde memorial.
Along the way, you will hear about Dublin's literary and rock 'n' roll traditions and the events and personalities that shaped the city's character.
Departure Location: Cafe Rothar, Fade Street
Departure Time: 10 am
Duration: 2.5hrs

Tickets sent by email!
Powered by Ticketbar