Dublin Zoo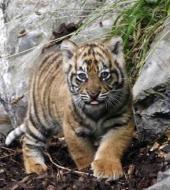 Home to some of Ireland's wildest animals!
Dublin Zoo is one of the most exciting days out a family can have!
There are plenty of amazing animals to discover including tigers, hippos, bats, rare monkeys, gorillas, chimpanzees, red pandas and lions to name but a few! Wander through the African Savanna and gaze at the giraffes, zebras, oryx and ostrich, then head to the Kaziranga Forest Trail to see the magnificent herd of Asian Elephants that call this beautiful place home.
All that wandering around is sure to build up an appetite. Be sure to visit the unique Meerkat Restaurant or one of the several cafes and kiosks around the zoo serving delicious hot food, sandwiches, coffee, pizza, ice cream and more.
Opening Hours:
Jan: 09:30 - 16:30
Feb: 09:30 - 17:00
Mar - Sept: 09:30 - 18:00
Oct: 09:30 - 17:30
Nov & Dec: 09:30 - 16:00
Daily excluding 25th & 26th Dec
Location: Phoenix Park

Tickets sent by email!
Powered by Ticketbar