Cruises by Sightseeing Boats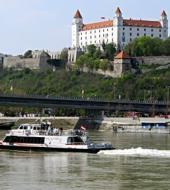 During the sightseeing cruise between the five bridges of Bratislava you get a special panoramic view of the Slovak capital from the deck of our excursion boat.
The tour starts with seeing the important sights of the Bratislava Historical Centre, the Bratislava Riverbanks, and the Bratislava Castle. Then we continue under the SNP Bridge (two piers without a pillar in the water, and the 80m high sightseeing cafeteria UFO on top), and end at the Lafranconi Bridge, where the boat turns back - drawing attention of passengers there are Gardens of Janko Kral located on right bank of the Danube River. The tour then continues under the Old Bridge and under the Apollo Bridge.
Departure Location: Bratislava Passenger Port, Fajnorovo nábrežie 2, Bratislava
Departure Times:
19 Apr - 4 May: 13:30 (Saturday & Sunday)
7 May - 31 Aug: 11:00, 13:30 and 15:30 (Wednesday - Sunday)
6 Sept - 28 Sept: 13:30 (Saturday & Sunday)
Duration: 45 minutes

Tickets sent by email!
Powered by Ticketbar