Bratislava - Piestany – Trencin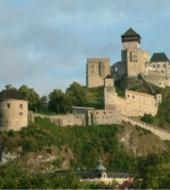 Piestany – The spa resort renowned for its curative geothermal water and sulphurous mud with exceptional effects on disorders of the locomotor system. The Napoleonic Spa is the oldest complex of buildings situated on the Spa Island. The Spa Island is connected to the pedestrian zone in the historical centre via a Colonnade bridge, also known as the Promenade Bridge. It's interesting from the architectural point of view. At the entrance of the bridge, visitors are welcomed by a statue of a man breaking crutches who is a symbol of Piestany. Since 1894, it is a part of the coat-of-arms of the town. In the town's park there is the famous "Kursalon". In Piestany, rafting on the Vah River ranks as the latest attractions of the town.
Trencin – "Pearl on the Vah river"
The dominant monument of the town is the castle that originated in the 11th century.
The most important monument is the Roman inscriptions carved into the castle rock declaring the victory of the II Roman Legion over the Germans on this territory. Other important monuments are the Roman-Catholic Church of Virgin Mary, the plague pillar, and the Jewish synagogue from the 20th century. The most famous legend of the Trencin castle refers to the Well of Love dug by the Turk Omar by his own hands for his beloved Fatima.

Tickets sent by email!
Powered by Ticketbar