Bratislava - Bojnice - Rajecká Lesná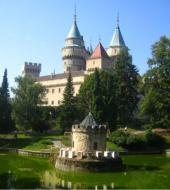 Bojnice: The spa resort with the most beautiful chateau in Slovakia. The Bojnice chateau is situated on a travertine hill overlooking the town. The last owner of the chateau, Ján František Pálffy, stated in his last wills that his palaces in Vienna and Budapest, the mansion in Kralova and the chateau in Bojnice became accessible for the public. Also the art works remain at the original places.
However, he had no idea that his wish would be fulfilled only a couple of years later in 1950, when a museum was established in the Bojnice chateau. In the "fairy-tale chateau," as a foreign tourist named it, numerous attractive events took place. For example knightly tournaments, falcon shows, the festival of ghosts, games, entertainment in masks and, recently, engaged couples from all over Slovakia came more and more frequently to say their wedding vows in the attractive premises containing the ancient history and romantic spirit.
Rajecka Lesna -30 km away from Bojnice.
Entrance: Slovak Bethlehem (Nativity) in Rajecka Lesna was constructed by Master Jozef Pekara in 1980. The exhibition depicts Christ's birth and the history of the Slovak nation. Bethlehem's scenery is situated in the most significant Slovak monuments. It depicts every-day life and work activities of the Slovak folk in the past, as well as, the dominants and characteristic buildings of towns all over Slovakia.
The length of the work is 8.5 meters, the width is 2.5 meters and the height is 3 meters tall. About 300 figures are placed, of which half of the figures are moving.

Tickets sent by email!
Powered by Ticketbar